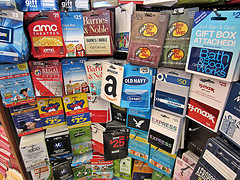 Gift cards are a popular item any time during the year, but they're especially so during the holiday season. Gift cards to Starbucks, Walmart, Olive Garden, and a host of other stores and restaurants make great stocking stuffers and help ease the anxiety for shopping for picky people on our shopping lists.
The only downside to gift cards (assuming you're not one of those folks who think, as a present to someone, they're too impersonal) is that the cards themselves are vulnerable to hacking or tampering that can result in a gift card with a zero balance. Cue the sad trombone.
Peek-A-Boo, I see you!

The activation code on the back of a gift card can be seen by anyone in-store unless the card creator takes the time to create a concealed portion of the card. Often times this will result in a small area you have to scratch off with a key or a quarter to see the "secret key code". If you're buying a card for someone, check out the back of the card and make sure it has a secret code to help make it harder for thieves to steal the gift cards credit balance.

Can I get them digits?

One inventive way crooks grab valid card numbers is when someone attempts to sell their card. If you ever want to sell a card for cash, don't let the would-be buyer check the numbers to verify the balance unless you like handing the keys to the gift card kingdom over to them. With those numbers on the back of the card, there's not much stopping them from using the card even without it physically in their hands.

Buy, buy, buy.

When you purchase a gift card for yourself of someone else, ask the cashier to verify the balance on the card, and then call the help line on the back of the card to double-verify everything's as it should be. Also keep the receipt in case there's an issue later on so you can prove you legitimately purchased the card in the first place.

Use it or lose it.

If you receive a gift card as a present, and I'm sure you will, don't let it sit in your sock drawer for years before you finally remember to use it up. Some gift cards are charged a fee, and taken from the card balance, which will then lessen the amount you can use without the benefit of getting anything fun.

One in the hand… or in the email?

There's some contention over whether or not buying a gift card digitally is a safe idea or not. Personally I've never had an issue, but I know there are people who have. The one nice thing about a digital gift card is that there's no physical card that someone can swipe the number off of, but then again if someone can tap into the recipients WiFi or email client then the card is as good as gone. It's a tough call as to which is safer.
Remember this: Gift cards are just like cash. If you drop it, lose it, or give it away (whether on purpose or not), there's nothing on it to let people know it's yours. Keep them secret; keep them safe.
If you're looking for great anti-virus software that won't break the bank, try StopSign. You don't pay extra for tech support for difficult malware, and our web protection software just works. Download & install StopSign to find out why our members choose us over the other options.