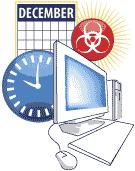 Daily updates to StopSign virus definitions and all software updates are available to StopSign members at no extra charge.
With hundreds of new viruses and variants unleashed every month, if your antivirus software isn't up-to-date it won't find and remove those threats to your computer.
Outdated software is useless against malware, and at StopSign we stress to our members the importance of keeping their Internet security software current. We even make it easy to set all StopSign products to automatically install software updates as soon as they are available.