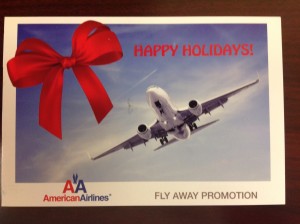 Here's hoping you enjoyed the recently concluded holiday season. The new year brings many things and, depending on where you live, you may be longing for it to bring some fun in the sun. This may be especially true if your weather is cold and gray or
wet every day. Thankfully, despite the gloomy weather, my post-holiday season remains merry and bright. This is partly because I decided to stick around the almost Great White North rather than falling for the "American Airlines Fly Away Promotion" scam, which arrived in my snail mailbox during the holidays.
The postcard included a picture of a commercial jet airplane, adorned with a happy holidays wish and a pretty red bow. The message read,
"Congratulations – In celebration of our new fall packages we've selected you to receive 2 round trip airfares to most major airports in the contiguous United States – good for the next 12 months!"
Me? For me? Someone who rarely flies or travels, let alone on American Airlines? Pretty exciting, huh? But wait! It gets even better. It says,
"Call within 48 hours and receive a 3 day 2 night hotel stay at major brands."
It said all I had to do was call the toll-free phone number and mention the promo code on the postcard. Wow! How exciting. I've never been to major brands, wherever that is.
But there was fine print. At least they included fine print.  Better to have a tip that's hard to read than no tip at all.
"All trademarks and service marks are the property of their respective owners. Offer void where prohibited by laws. All components of this offer are fulfilled by a third-party. Certain restrictions apply. Recipient responsible for all applicable taxes. Please call for details."
OK. That's not a deal breaker, is it?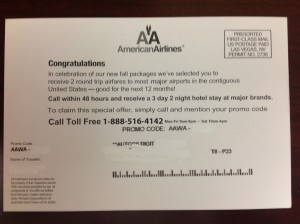 Next stop, Google search. Articles and readers' comments from Connecticut to Southern California quickly indicate the "promotions" range from gimmicks for getting people to sign up for expensive travel or vacation clubs, to paying for website subscriptions, to making a no obligation visit to the travel agency so they can show you how they can save you money.
Ahh, these are the third parties. Oh yeah, and there's often more fine print in the promotional materials. It informs you of what you actually receive — a certificate to claim your gift BUT charges for deposits, shipping and handling, processing, reservations, taxes, etc. are your responsibility. Not surprisingly, these charges can up to more than the value of the airfare and hotel accommodations.
Any and all of these stipulations may apply. Worse yet, you may also need to sit through an informational seminar about the travel agency's fantastic promotions, travel packages, or vacation club benefits.
All applicable conditions often don't become clear until it's too late to change your mind, possibly after you've signed some sort of binding agreement.
One more thing…anytime you're asked to provide a credit card or bank account number to hold a reservation, for a deposit, or for verification purposes, BEWARE! That's a red flag for an almost certain ripoff.
Remember, any scammer can use a legitimate company's logo illegally or without permission. And even if they use it legally, it may be nothing more than a marketing ploy dressed up as a free prize from a major air carrier.
So if you value your time and dislike being disappointed by things that aren't all they're cracked up to be, follow the wise words of Bob and Doug McKenzie and tell 'em to, "Take Off!"
Related Articles:
Stay-Away-Cation!  Travelocity Hotel Gift Card Scam
Free Air Travel Getaways Postcards: Don't Believe It
Consumer Alert: "Southwest Escape" Offer Grounded
Travel postcard deal too good to be true
If you're looking for great anti-virus software that won't break the bank, try StopSign. You don't pay extra for tech support for difficult malware, and our web protection software just works. Download & install StopSign to find out why our members choose us over the other options.