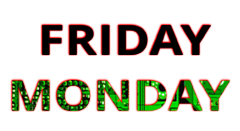 Like most companies around this time of year, we're offering some fantastic savings on our product. This year, our Black Friday/Cyber Monday special is 50% off of any new StopSign Internet security membership.
This offer is only good from 11/21/12 to 11/27/12, so be sure to become a StopSign member or sign up a loved one to keep their Windows computer safe and secure in 2013!
Have a question about our Black Friday/Cyber Monday software special, or just to call our Sales team instead of signing up online? Give us a call at 800-786-7744.
If you're looking for great anti-virus software that won't break the bank, try StopSign. You don't pay extra for tech support for difficult malware, and our web protection software just works. Download & install StopSign to find out why our members choose us over the other options.