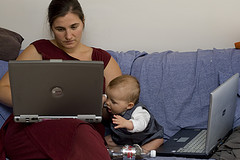 You don't need us to tell you how important online safety for your family is, especially if you have kids still living at home. Local and national news sources help illustrate this point almost every day with stories about online scams, Internet perverts, and worse. But today we're going to help you prevent any more of those stories by giving out some basic online safety tips for you and your family.
With the proper guidance, you can help make sure that you've done everything you can to help your kids surf safely on the Internet. Take a look at the list we've compiled below and see if there's anything here you haven't tried yet.
Always sit with younger children when they're online. Keep a few bookmarks that they can easily access to get to kid-friendly web sites.

Help your kids create fun online nicknames that don't give away personal information.

Keep any computers that are connected to the Internet in an open area where your children can be easily supervised.

Ensure that your kids aren't sharing personally-identifiable and/or sensitive information with people they meet online. Examples of info to keep private include:

his/her real name,

the physical address of their home,

whether or not their parents, guardians, or other responsible adult are home,

any phone number (home or cell), or

Let them know that it's not OK to use the Internet to gossip, cyberbully, or threaten anyone online, even if they mean it as a joke.

Let your children know that it's OK to tell you if something (or someone) on the Internet makes them feel uncomfortable or threatened.

Make sure they know it's never OK to meet an online friend without parental permission.

Set clear rules for appropriate Internet use. Things you should consider are the types of web sites that are off limits, specific Internet hours, and what (if any) information can be shared online.

Talk to your children about what web sites they visit and who they're chatting with.

Talk with your kids about computers and be open to their questions.
The online safety tips we've listed above are a good starting point for any family with children who are old enough to use computers, but they are by no means an exhaustive list. Monitor how much your kids use the Internet, see what's working and what isn't, and stay involved.
If you think we've missed anything, or if you have a story about how your family talks about online safety, please leave a comment below. We'd love to hear from you.
If you're looking for great anti-virus software that won't break the bank, try StopSign. You don't pay extra for tech support for difficult malware, and our web protection software just works. Download & install StopSign to find out why our members choose us over the other options.