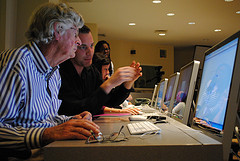 Senior citizens are a vital community in modern society, but unfortunately they're often targeted by Internet scam artists looking to make a quick buck. In fact, the Attorney General of Washington state did some research on senior fraud and discovered the following statistic from AARP:
Consumers lose billions of dollars each year to fraud. People over age 50 are especially vulnerable and account for over half of all victims…
That's a staggering number, and a clarion call for seniors to be proactive in their own defense against fraudsters who would scam them out of their hard earned money.
With a few simple precautions, computing seniors can defend themselves against scams and fraud. And while there's no end to how many different ways there are to try to bilk someone out of their hard-earned money, these tips can help knock out some of the most common scams.
We could go on and on about fraud prevention and online security, but the tips noted above are a great start for any senior citizen looking to protect themselves from Internet scams. Do you have any additional tips that we may have missed? Leave us a comment below and share your thoughts with the rest of us.
Additional resources for seniors:
If you're looking for great anti-virus software that won't break the bank, try StopSign. You don't pay extra for tech support for difficult malware, and our web protection software just works. Download & install StopSign to find out why our members choose us over the other options.