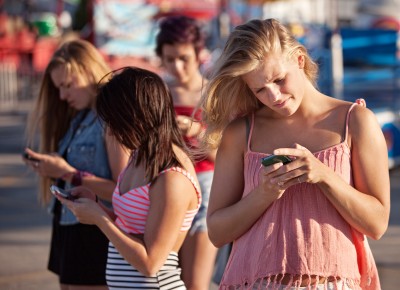 As parents, my wife and I recently hit a milestone. Our oldest child became a teenager last month. As we all know, your world changes when you hit "Teendom"! But as the world changes, so does the list of "Things That Change When You Become a Teenager." One item that wasn't on our lists when we went through this rite of passage was getting our first cell phone. A what phone? I know, right?
So here we are. Several of our son's friends have already had their own cell phones, some for a year or two before they hit their teens. So naturally, the number one thing on our soon-to-be teen's birthday wish list was a phone of his own.
Our first question: "Is a 13-year old mature and responsible enough for his own cell phone?" Well, we felt that he'd demonstrated the requisite responsibility and he'd patiently waited long enough. He had earned the opportunity to prove us right or wrong, as the case may be. So that decision was easy. But the questions get tougher. There are many more decisions to make, like, "what type of phone?" A smart phone or a feature (dumb) phone? Uhh…
This question raises much debate but there's probably no one right or wrong answer. Many parents feel a child should not have a smartphone, with all its functionality, until they are of driving age. Among some of the concerns about giving your child a smartphone (at any age), include:
Games and apps can be addicting and discourage socialization and interaction with others. Not to mention, if that's your child's primary use of the smartphone, you're paying a lot of money for a toy.
A lot of time spent on a smartphone can discourage a child from getting up and moving around. This lack of exercise can lead to overweight or obese children.
Too much time spent looking at small screens can weaken a child's eyesight.
During the adolescent years, high exposure to smartphones can adversely affect brain development, possibly leading to shortened attention spans.
"Checking-in" publicly to places or from locations via social media platforms or apps, such as Facebook or Foursquare, can potentially jeopardize your child's safety and security by making their whereabouts known to predators lurking online.
Smartphones can be used to bully other kids or lend to your child becoming the victim of cyber-bullying, whether it's through social media platforms, texting, instant messaging, or other apps.
Many of the concerns about teens with smartphones aren't much different from those that exist for kids with iPod Touches or other mobile Wi-Fi enabled devices, like tablets. A few differences between smartphones and iPods or tablets include costs and managing Internet access. Wi-Fi mobile devices are generally less expensive than smartphones, mainly because there is no requirement for a monthly data plan as with cell phones. Additionally, since Wi-Fi service is required, the iPods and tablets are more likely to be used at home, where parents can more closely monitor online activities.
So, if you can work through the list of cons and none of them are show stoppers for you, take a look at the convenience and accessibility that smartphones offer. Smartphones provide many advantages to parents, as well as children, including the following non-exhaustive list:
Parental controls are available for smartphones. Some are included in the operating system. Apple's iOS allows you to turn on or off everything from the Safari Internet browser to YouTube to multi-player games in the Game Center. iOS restrictions also allow you to control access levels to movies, songs, and apps based on their ratings. For smartphones on other platforms like Android, the controls aren't part of the operating system but there are several apps available for parents to control access and monitor activity.
Smartphones also allow you to keep tabs on your child using mobile apps and desktop programs like Google Latitude. Assuming their devices are with them, you can use smartphones to track your kids' whereabouts at all times to make sure they are safe. This can be done without using any of the check-in services from one of the many social networking platforms. All the major wireless phone carriers have services that let you track the location of family members. There are several free apps that allow you to do this with no service fees, such as Apple's Find My iPhone or the family app Life360 Family Locator.
Another benefit of smartphones is they provide access to additional learning resources, including apps for arts, math, science, spelling, foreign languages, and many more.
Smartphones also enable your child to easily find phone numbers or information they need online.
Google Navigation means your child shouldn't get lost (or at least won't stay lost for long).
Smartphone calendars can assist your child in remembering homework due dates, other important events and teach them how to manage their time and schedules.
It's also becoming more and more difficult to find non-smartphone offerings from the phone carriers. The choices for feature phones are dwindling and the cost differences between the two types of phones are narrowing. It costs nearly as much to purchase a "dumb" phone as it does a smartphone. Pretty soon, that decision will be a moot point, as the decision will be made for you.
The bottom line is, for good or for bad, smartphone technology is here to stay. The key is to make it work for you and your family. Parental instruction and guidance about this technology are the most important parts of the equation. Establish rules and expectations for your teen's cell phone usage and the potential consequences for failing to abide by those requirements. Clearly stating what constitutes appropriate use, as well as unacceptable activities, are important elements. Explain to your child that you want them to have the best communication tools available but that their use of them is a privilege and not a teenage right.
Formalize this notion by having a written cell phone agreement or contract that your child signs to indicate their acknowledgment of the rules, expectations, and consequences that govern their cell phone usage. Consider including stipulations in the agreement, such as a statement that they are not to share their location (aka check-in via social networking apps) with anyone other than your family and/or your tight network of friends.
Above all, don't dread hooking your teen up. Help them get connected but do it on your terms by managing it and everything will work out just fine! How do you feel about the whole "cell phones for teens debate?" Smart or Dumb?
If you're looking for great anti-virus software that won't break the bank, try StopSign. You don't pay extra for tech support for difficult malware, and our web protection software just works. Download & install StopSign to find out why our members choose us over the other options.