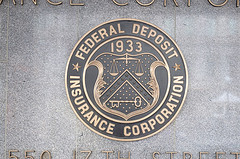 The name of the FDIC continues to be used by scammers to try to get your money or commit identity theft. In the past few months, the FDIC has been receiving increasing reports of fraudulent phone scam attempts by people claiming to be from the FDIC. These calls are, in fact, a vishing scam. (A form of social engineering that takes place over the phone, often through a VoIP connection) According to the FDIC in their September 2010 Consumer Alert:
To date, the callers have alleged that the call recipient is delinquent in payment of a loan that was applied for over the Internet or made through a payday lender. The loan may or may not actually exist. The caller attempts to authenticate the claim by providing sensitive personal information, such as name, Social Security number, and date of birth, supposedly taken from the loan application. The recipient is then strongly urged to make a payment over the phone to "avoid a lawsuit and possible arrest." In some instances, the caller is said to sound aggressive and threatening.
If you get a phone call, email, fax, carrier pigeon, or anything from the FDIC claiming something akin to the aforementioned, it's a scam, plain and simple. These scam artists aren't dumb. They'll craft an email, a phone script, or even a website to look as legitimate as possible in order to fool you, but it's not from the FDIC. In fact, the FDIC specifically states that:
The FDIC generally does not initiate unsolicited telephone calls to consumers and is not involved with the collection of debts on behalf of operating lenders and financial institutions.
In short, if it's a phone call, hang up. If it's an email, don't click on anything and delete the email. Then go through your bank and credit card statements to make sure you aren't already facing an identity thief who is trying to gather more data on you. If you find out that you've been swindled already, contact your financial institutions immediately.
If you're looking for great anti-virus software that won't break the bank, try StopSign. You don't pay extra for tech support for difficult malware, and our web protection software just works. Download & install StopSign to find out why our members choose us over the other options.