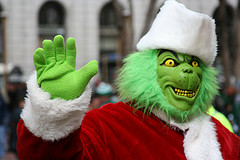 It's the most wonderful time of the year… so they say. Right about now holiday scammers are ramping up their ho-ho-horrible trade and preying on unsuspecting folks who are trying to spread a little cheer to family, friends, and those in need.
Be on the lookout for people who are trying to take advantage of your generosity and your pocket book and you'll be spending the holidays with friends and loved ones instead of on the phone with your bank or credit card company, trying to reverse the damage done by an online crook.
Here's a sampling of some of the holiday scams you'll find this year:
Gift Card Scams:

There are all kinds of gift card scams, so your best bet is to actually buy gift cards from the actual store you get the card from versus buying them from eBay or off the guy on the sidewalk selling a (fake) $100 gift card for only $50. (Yes, that happens)

Charity Scams:

This time of year is a traditionally popular time to give to charity, but no matter if you receive a phone call, an email, or a person knocking on your door, make sure they're actually from the charity they claim to be. When in doubt, contact the charity yourself and give that way.

Name a Star Scams:

My mom actually fell for this one. It was a sweet sentiment, getting our kids a "star" they can name, but the honest truth of the matter is that stars are only officially named, and recognized, by the International Astronomical Union, and they don't commercially offer star names up to buy.

Wire Transfer Scams:

One of the quickest ways to remove money from your bank account and get nothing back is through a wire transfer; especially if doing one overseas. Auction sites are especially notorious for these kinds of scams, so keep your money and don't agree to a wire transfer, even if you did find that awesome toy from your younger days on eBay, still in the original package.
So with that, I hope you have a merry little Christmas, Hanukkah, Kwanzaa, Winter Solstice, or whatever you celebrate. Just make sure you do it safely both offline and online!
If you're looking for great anti-virus software that won't break the bank, try StopSign. You don't pay extra for tech support for difficult malware, and our web protection software just works. Download & install StopSign to find out why our members choose us over the other options.