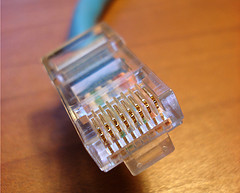 It's a well known fact that downloading certain kinds of material is more dangerous than others. Outside of any possible moral, philosophical, or comfort factors, there are security reasons that make the PG-13 (and higher) side of the Internet a hotbed of potential problems for your PC.
But adult sites aren't the only ones that get targeted. Celebrity/gossip sites, thumbnail/graphic sites, video sharing sites, and even Harry Potter related sites are all targets; often without the knowledge of the site owner.
Once installed on your machine, spyware and Trojans can track your every move. Any link you click, site you visit, or text you read. There have even been cases of spyware creators blackmailing victims they've been spying on in an attempt to get cash from them.
Titillating, popular, and/or well-trafficked content on the Internet is big business, and the malware developers of the world know it. Because it's content that get a lot of eyes looking and clicks happening, the malware folks take advantage of that fact and spread their wares on sites that cater to looky-loo's. As such, every bikini-wearing beauty, her less-clothed sisters, and other video/picture/movie websites are a possible suspect for computer infection.
So before you head to that site, click that video, or download that picture, think about what you (or rather, your PC) could catch if you do.
If you're looking for great anti-virus software that won't break the bank, try StopSign. You don't pay extra for tech support for difficult malware, and our web protection software just works. Download & install StopSign to find out why our members choose us over the other options.