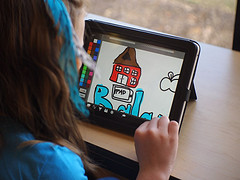 When I was a kid, I could ride my bike all over our neighborhood and play outside all day long without seeing or talking to my parents. These days, most parents keep a much closer eye on their kids due to the rise of unsavory characters harming kids. The same thing goes for the Internet; in 1993 most people were still discovering what the "web" was and there wasn't much cause for concern. But today, the topic of online safety is everywhere and the evening news stories about online predators have most parents keeping a tight rein on what their kids do and see online.
And no wonder. According to the FBI, 1 in 3 kids has been exposed to unwanted sexual material, 1 in 7 have received unwanted sexual solicitations, and 1 in 11 children have been bullied online. (Source) With those kinds of numbers, it's imperative that we help protect our children at every possible level. A daunting task, to be sure, but one which is just as important as seat belts in cars and wearing bike helmets.
I'd be lying if I said that we, as parents, could protect our children from every conceivable manner of predatory interaction. But the more we know, the more we can do, and action is the key to preventing our kids from being exposed to the wrong kind of people and pages on the Internet. To help you out, we've rounded up a handful of ideas that will keep your kids safety and security at the forefront of any visit they make to the web.
Don't give out personal information — It's very easy to take a few pieces of information and determine where someone lives, works, or goes to learn. Remind your children that any personally identifiable information like their last name, address, email, phone number, or school name are things they should keep to themselves. Putting any of that information online puts them at risk for predators.
Sending pictures and videos are by permission only — Stress to your kids that sending pictures or videos of themselves to anyone online, even friends and family, should only be done with your permission. It's not just online predators who are a problem. Cyber-bullies often pose as a friend at first to gain their victims trust, then use what they find against them.
Let your kids know it's OK to come to you — If your child feels uncomfortable with something he or she finds online, let them know it's OK for them to talk to you about it. Pictures, video, text… there are all sorts of things that could make your kids feel uneasy.
Nix any meetup plans — One of the biggest worries we have as parents is an abducted child. Talk openly and honestly to your children about the dangers of meeting a "friend" they met on the Internet in the real world.
It's OK to not chat back — If your child receives an email, a text, and instant message, or any other communication from someone they don't know, make sure he or she understands that they do not have to answer back. It's not rude; it's a safety issue. This should also extend to immediately stopping a conversation as soon as they feel uncomfortable.
This blog post isn't meant to be an exhaustive list of things you can do to help keep your kids safe on the Internet. Rather, it's a starting point for action and discussion. The best things you can teach your child about staying safe online is to be aware of the dangers, keep sensitive data secure, and provide a safe haven for them to talk you about what they find online.
Many great websites and articles are posted online regarding Internet safety for parents, kids, teachers, and beyond. Here are some additional resources to help you keep your kids protected:
We'd love to hear more from you on how you help keep your kids safe online. What tips do you have for kids and parents who are looking to stay safe? Leave your comments below to share your thoughts.
If you're looking for great anti-virus software that won't break the bank, try StopSign. You don't pay extra for tech support for difficult malware, and our web protection software just works. Download & install StopSign to find out why our members choose us over the other options.