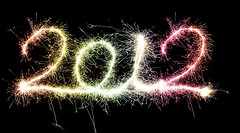 A new year brings new opportunity for us all to change our old habits for new ones. Take me, for example. I've set up a few resolutions for myself that include getting healthier, spending more time with my family, and learning a new programming language. Maybe you want to dedicate more time to a hobby, or finish up that project car that's been sitting in your driveway since 1998. 🙂
New Year resolutions are kind of a laugh to most people, because we all know that as humans, we're loathe to change on our own. We all get used to doing things a certain way unless life kicks us in the behind to do something about it. But this year, you and I can make a positive change before something bad happens.
I've got 3 super simple things you can do to make the technology-related side of your life better. Each of these will either save your life (seriously), save you from embarrassment &/or identity theft, and save you from the wrath of a loved one for losing important files… like wedding photos, etc. Read on:
Resolve to be safe with technology

Some of you probably laughed when I said a tech-related resolution could save your life, but this really could: Use your tech and gadgets only when appropriate. I'm looking right at you, car texters. But it goes beyond texting while driving. Stop messing with your GPS devices, using your cell phone without a hands-free device, and even fiddling with your stereo settings while driving. A click here or there to change a station or re-route your GPS is one thing, but I've seen a lot of people concentrating more on the gadgets than the road. Don't be the one who becomes a statistic!

Resolve to change your passwords

This will be, by far, the easiest and best thing your can accomplish in this resolution list. For every service you use, whether a bank, Facebook, or Amazon.com, change the password. You and I both know that it's been a while. Maybe not for every login you have, but if you're like most people then many (or even most) of the services you use haven't seen a password update since you first signed up.

Resolve to back up your important files

With services like Dropbox, making backups of important files like your digital photos is easier than ever. And if you're worried about putting sensitive data in the cloud then do what I did: Buy yourself an external USB hard drive and back them up there. Even if all you did was a straight copy and paste from your desktop or laptop to your external drive, you'd have the peace of mind that your files are safe. I have a friend who lost all of his wedding photos because of a hard disk crash, and let's just say it wasn't pretty to hear about the wrath of his lovely wife.
I sincerely hope you take those 3 simple changes to heart. You'll find that they aren't tough to do, and you'll be a lot safer in the long run by doing them. Here's hoping you and your loved ones enjoy a happy, safe, and technology filled 2012!
If you're looking for great anti-virus software that won't break the bank, try StopSign. You don't pay extra for tech support for difficult malware, and our web protection software just works. Download & install StopSign to find out why our members choose us over the other options.