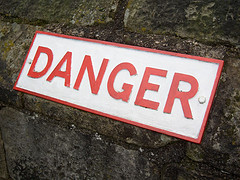 There's a threat lurking on your computer right now. A presence so fraught with security holes that to expose it to any malicious element on the Internet would likely result in things such as identity theft, spyware, hacked accounts, and worse. What's this problem? The problem, my friend, is you.
"Only amateurs attack machines; professionals target people." Bruce Schneier (computer security expert)
So you're a danger to yourself and others around you when it comes to Internet security… don't feel bad. We're all guilty of it. As humans, we're notoriously good at being bad: we forget to pick up the milk even though our significant other reminded us, we skip a meal and eat way too much later that night, and we certainly get complacent when it comes to Internet security. And that last thing, that's what we're talking about. You can deal with your SO and your doctor on those first two. 🙂
We've talked about social engineering before, which is an easy way for hackers and phishers to get information out of you. Instead of breaking into your computer they attempt to break into you, using emails, instant messages, and in some cases even phones or talking to you in real life (both of which are much more rare, but still possible). Once they have gained your trust they begin to break down walls and get at what they really want: your sensitive information. Passwords, account numbers, access codes… anything they can get their hands on that might prove valuable.
In order to stop these people from breaking into your life, you have to train yourself to jog your brain out of complacency when it comes to Internet security. Three of the easiest ways to lock out the bad guys are:
Strong passwords:

Maybe we're sounding like a broken record here, but a good password is one of the easiest, and best, deterrents to attacks ranging from account privacy to identity theft. Build yourself a better password.

Trust but verify:

We're not suggesting that you live your Internet life in a bubble, just use the same precautions you'd use in the real world. Use some of the tips we wrote in our blog post "5 Simple Tips to Staying Secure Online" and that should cover your bases.

Lock down accounts:

Your privacy is one of your most important assets online. For every service you use, from your bank to Facebook, make sure that you understand how their security and privacy policies affect you and lock down information such as your physical address and home phone number so that only people you want contacting you can do so.
Reducing the amount of information publicly available about you and keeping up with a few easy Internet security tips will go a long way to keeping you safe… from yourself. 🙂
If you're looking for great anti-virus software that won't break the bank, try StopSign. You don't pay extra for tech support for difficult malware, and our web protection software just works. Download & install StopSign to find out why our members choose us over the other options.