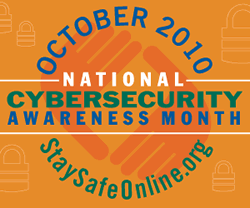 The month of October 2010 is the 7th annual National Cyber Security Awareness Month (NCSAM) here in the United States. Internet (cyber) security continues to be at the forefront of our minds as we push further into the 21st century, and once again President Obama has made a presidential proclamation regarding the need for increased cybersecurity:
America's digital infrastructure is critical to laying the foundation for our economic prosperity, government efficiency, and national security. We stand at a transformational moment in history, when our technologically interconnected world presents both immense promise and potential risks. (Read more)
We all have a part in taking cybersecurity seriously and addressing it in our every day lives. The staff of StopSign Internet Security software is proud be be part of the solution by providing excellent antivirus, antispyware, and firewall software as recommended by the Department of Homeland Security for every computer user in the US.
Special Offer: Once again we're offering a special discount of 20% off our StopSign Internet Security software (which includes antivirus, antispyware, and firewall software [downloaded separately]) for anyone using the coupon code "NCSAM" during National Cyber Security Awareness Month. To take advantage of this money saving offer, visit the StopSign shopping cart and enter the code to get your special price. (The site will open in a new window.) Please note that the discount will not be applied to T4C game items or the StopSign CD box.
If you don't see the coupon entry form right away, click on the coupon code link in "Step 2" on the cart to enter your coupon code before you order!
StopSign is proud to endorse NCSAM by helping raise awareness regarding Internet security-related topics. For more information on National Cyber Security Awareness Month or government recommendations on cyber security, please visit StaySafeOnline.org.
If you're looking for great anti-virus software that won't break the bank, try StopSign. You don't pay extra for tech support for difficult malware, and our web protection software just works. Download & install StopSign to find out why our members choose us over the other options.