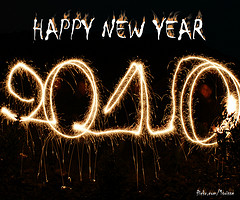 As 2009 comes to a close and all of the holiday decorations begin to come down (you are taking down those lights before Valentine's Day, aren't you?), many people choose to make New Years Resolutions. Some people choose to promise themselves to lose weight, others to spend their money more wisely, but we're asking you to make a different change: the way you use your computer and the Internet.
Making a change is never easy (most people don't seem to like change at all); but change can be good if it's done for the right reasons. Meet the New Year head-on by resolving to make the tech-related aspects of your life a little safer and a little more secure by following our 5 simple suggestions for changes to your computer and Internet use:
Change your passwords

It's a simple enough change, and possibly one of the most important. By not letting a password live for too long, you help to reduce the chances of it being captured by spyware or a keylogger and sent out on the web to someone with mischief on their mind. Read the StopSign blog post on creating a good password and update all of your passwords in 2010.

Update Privacy Settings

Crack open your browser(s) and review your current privacy settings. It's probably not a set of options that you look at all the time, and you might have accidentally set some of the settings too low for certain things, or maybe even added certain web sites to a white list that you didn't mean to. Now's the time to clean all of that up. And while you're at it you may as well clear out your cookies, browser cache, and all that jazz. Start the New Year as fresh as possible.

Update Vital Information Online

From the address and phone number on your online banking profile to dusting off that Facebook or Twitter account and removing any personally identifying information that anyone can see, there's no time like the present to update your information online. We can help you to stay safe online with some tips on things to look out for when putting your info online.

Back up Important Files

If you're like us, you probably do a lot on your computer: your taxes, edit family photos, post videos online, and more. Don't be caught without a backup: Burn your important files and other data to a CD or DVD, buy an external hard drive and copy everything over, or even use an online service to keep a copy of it all off-site. Between hardware failure (something a friend who didn't have backups of wedding photos recently went through) and data corruption, much less any other calamity, keeping a backup of the things that are important to you should be a top priority in the coming year.

Patch it up

Check your operating system, installed applications (web browsers and plugins, document editors, PDF viewers, spreadsheets, etc.), and antivirus/security software for updates. Without the latest version of software you leave yourself open to out-of-date problems at best, and security-related and/or data-loss problems at worst. Most software apps have a simple method of updating themselves anyhow, so it shouldn't be too difficult to figure out.
If you enjoyed this post or any of our other StopSign Blog posts from 2009, just wait until 2010! We're going to keep posting online safety and security-related topics here on our blog. You can also follow the StopSign Blog on Twitter to get the whole scoop on what we're doing, what we think you might find interesting online (and sometimes offline), and more.
Happy New Year! We look forward to hearing from you in 2010. 🙂
If you're looking for great anti-virus software that won't break the bank, try StopSign. You don't pay extra for tech support for difficult malware, and our web protection software just works. Download & install StopSign to find out why our members choose us over the other options.