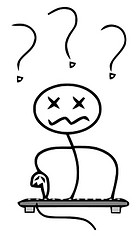 The StopSign Support staff fields a lot of different calls every day, and a common question heard by our techs is "How can I tell if my antivirus software is working?". With hundreds of new viruses and other kinds of malware being written or released every day, it's natural to suspect that your antivirus software isn't up to snuff if you don't see it catching anything.
Like most antivirus vendors, the StopSign Research lab keeps a closed-off network of computers (i.e. not connected to the Internet or our internal networks) with live viruses to test our software before it goes out to our members. For us it's easy to run our antivirus software against live viruses in our "snakepit" of malware safely because we have a closed environment to test the StopSign Threat Scanner, but that's not the case for everyone.
Luckily the European Institute for Computer Antivirus Research provides, free of charge, the EICAR Standard Anti-Virus Test File as a tool to test antivirus software using different test files to see if your scanner takes the bait. The EICAR anti-malware test file is a safe (i.e. not truly infected; it only contains patterns and not any actual virus code), publically available anti-malware test file which contains code that should trigger detections by antivirus and/or anti-malware software.
Testing your antivirus software is as easy as 1-2-3:
Download:

Go to EICAR's web site and download an anti-malware test file on to your computer (and be sure to note where you downloaded it to). There are several versions of the test file available if you scroll to the bottom of the page. Feel free to choose any (or all) of them.

Scan:

Using your antivirus software (we, of course, recommend StopSign Internet Security software), scan the anti-malware test file you downloaded.

Review:

When your security software is finished, it should have detected any of the anti-malware test files you downloaded as infected.
If for some reason your antivirus software doesn't pick up the "infection" it could just mean it's time to update your software with the latest anti-malware definitions. Update your security software and try it again, and if it still doesn't pick up the EICAR anti-malware test file then contact your security software vendor to see if there is a problem.
If you're looking for great anti-virus software that won't break the bank, try StopSign. You don't pay extra for tech support for difficult malware, and our web protection software just works. Download & install StopSign to find out why our members choose us over the other options.