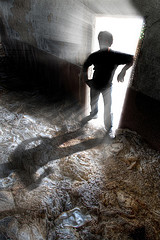 Location-aware features are becoming more and more prevalent in today's online services and tech gadgets. From GPS in the latest smart phones to adding a geolocation tag on social networking sites like Twitter or even Google, its easier than ever to let people know where you are any time of day or night. But with the ability to publicly display your location lies an inherent risk for being a victim of cyber-stalking or worse.
When it comes to technology and online services in our digital world, it's easy to forget how all the strings tie together. As we tweet, blog, or update our Facebook statuses during the day we're supplying everyone who can see our profiles with sensitive data regarding our day-to-day activities. From what and where we had lunch to when we're going to bed, every time we post anywhere we're opening our lives a little more. This isn't necessarily a bad thing, but basic precautions should be taken, especially with tools that can display our location on a map.
Thinking of geolocation data as sensitive information is important not only for your privacy, but for the safety of yourself and your possessions. Because of this we recommend that, if you add geolocation info with your online posts, you exclude certain places from being published. Examples of recommended sites to exclude are:
Your house:

GPS data these days is so accurate that if your geolocation data is posted online it can show you not only your general neighborhood, but the precise location of your house. With a good satellite image from Google maps it's even possible to discover what kind of car you drive and where good hiding spots are around your home.

Where you work:

For most people a large part of the day is spent at work. Geo-tagging from work allows anyone wishing to follow you to easily track where you are when you're on the job.

Schools & daycare:

Our children are our most precious gift, and showing the world where they go to school or daycare is just about as dangerous as doing it from your home. Resist the urge to post location information when you're waiting at the school pick-up circle.

Vacation spots:

We already know that tweeting can potentially lead to a home burglary, and if you add your geolocation tags to your vacation posts when you're out of town, you'll not only let criminals know you're gone, you'll let them know how long your house will be empty.
It may seem far fetched at first, but here's an all-too-possible scenario: Person A follows Person B on Twitter, and vice versa. Person A likes to tweet a lot about everything she does during a day. On her profile Person A has a profile picture of herself, her first and last name, and the latitude/longitude of her current location updated whenever she tweets. If Person B is an unscrupulous character, he can cyber-stalk Person A to his hearts content and begin to build up his own profile on her: Where she works, where she shops for groceries, who her friends are, what her neighborhood is like, and when she's at home or running around town. Mix in real-time geolocation tagging and he can not only follow her online, he can take his stalking to the real world.
While geolocation tools and services can add a fun, new dimension to your virtual life, you need to understand the risks of opting-in to them. Just be sure to not share any location-based information that can put stalkers close to you.
If you're looking for great anti-virus software that won't break the bank, try StopSign. You don't pay extra for tech support for difficult malware, and our web protection software just works. Download & install StopSign to find out why our members choose us over the other options.